Q1 2023 Hashrate Derivatives Market Recap
Q1 2023 Trading Activity, Market Participants, Hashprice Movement, and Product Updates
By Ben Harper and Matt Williams
Q1 2023 was a big deal in the evolution of digital commodity markets. After launching the world's first non-deliverable compute power forward market at the end of 2022, Luxor's hashprice forward saw tremendous growth in adoption in Q1 2023. The number of market participants doubled and hashrate and notional trading volumes were up about 5-fold.

Contract Updates
In Q4 2022, Luxor launched the beta version of our hashprice non-deliverable forward contract. In this initial phase, the sizes traded were small and durations were short and limited to 30 days. The purpose was to launch a minimum viable product and gather feedback from hashrate market participants.
In Q1 2023, we took off the training wheels and rolled out a number of product upgrades. In order to expedite and improve the market making process, we introduced standardized monthly forwards (in addition to custom contracts) which traded on a monthly basis with 1, 2, and 3 month expiration periods. We also launched BTC-denominated hashprice forward contracts to hedge network difficulty and deploy capital more efficiently, and released Luxor's Position Manager for market participants to manage forward hashprice positions.
Hashprice Forward Market Activity
In Q1, we saw participation from a diverse set of market participants. On the buy side, there were miners looking for temporary exposure to hashprice while procuring ASICs, speculators looking to profit on falling difficulty and rising bitcoin prices, and hosting companies looking to hedge their short hashprice position while curtailing operations for winter storms and elevated electricity prices. On the other hand, the sell side was predominantly miners looking to lock-in hashprice and hedge their revenues
Trading volume totaled 14,707 PH/s/Day units in Q1 2023. This represented a 480% increase in trading volume vs. Q4 2022. Total notional value traded increased even further - a 550% increase vs. Q4 2022.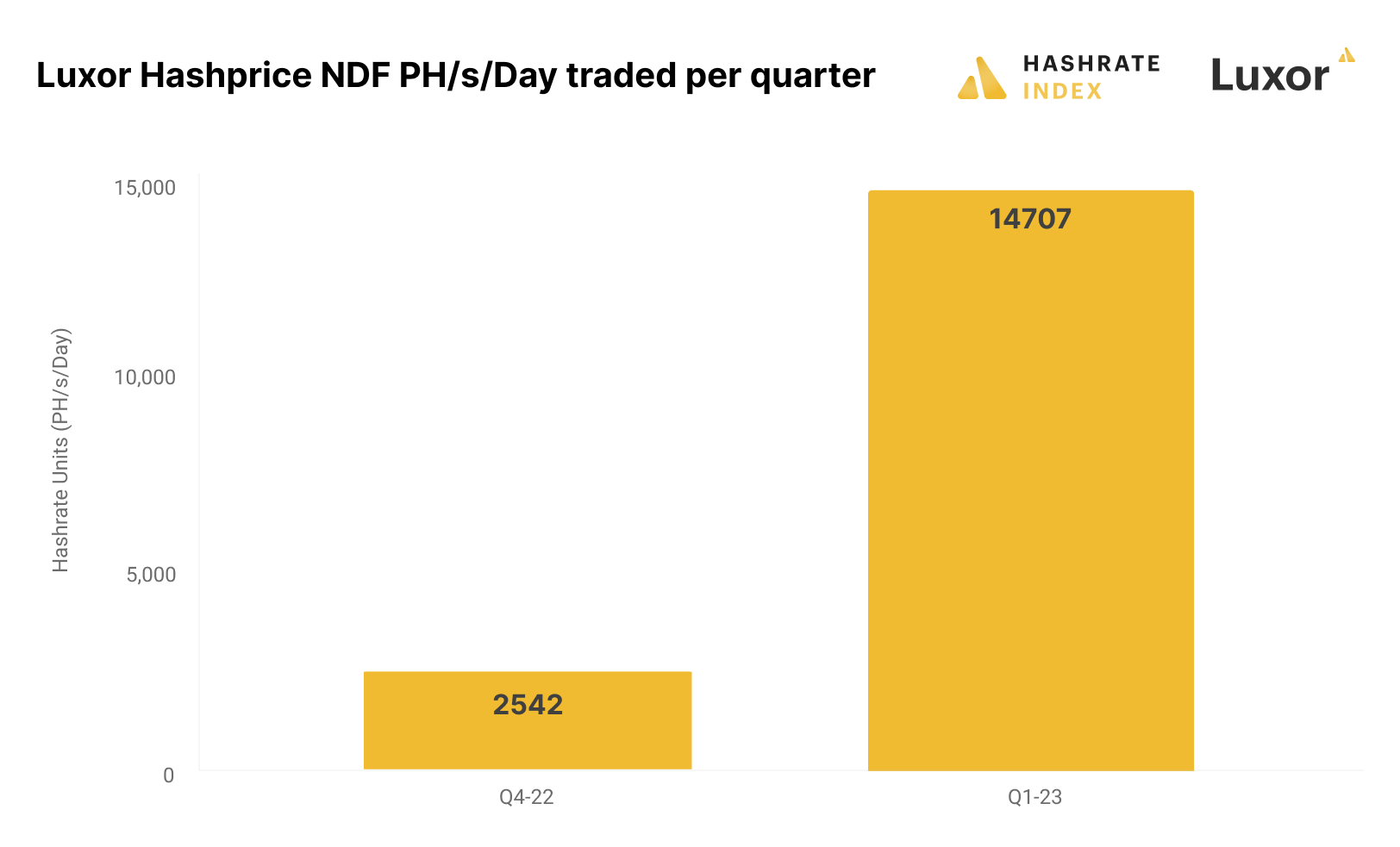 As the quarter progressed, average contract durations expanded as market participants began to take advantage of new contract durations. In January, market participants used the 1-month contract almost exclusively, but this expanded to an average contract duration of 56 days and a weighted average contract duration (by hashrate) of 75 days by mid-April.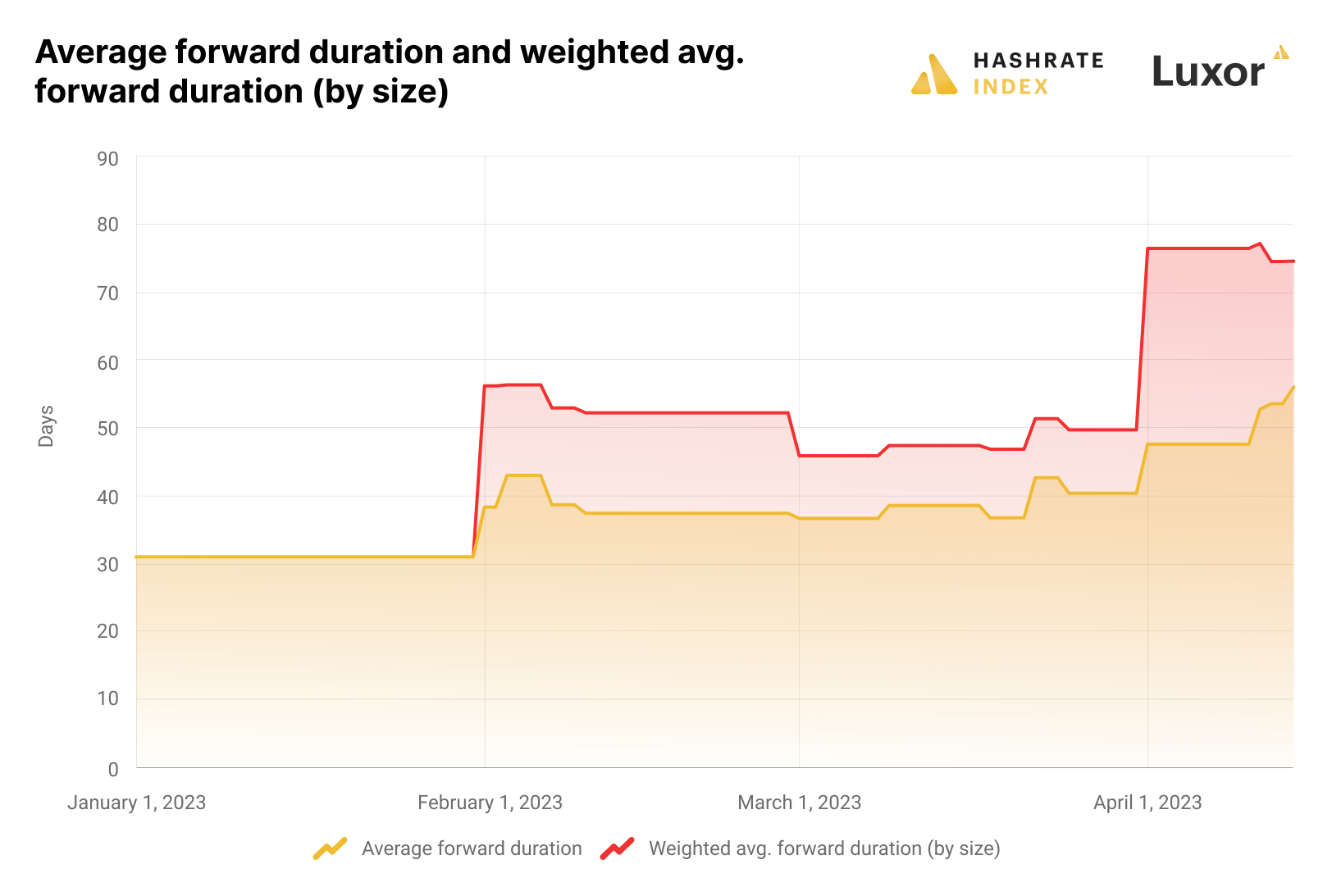 Over the past two quarters hashprice has tended to trade in backwardation, though not exclusively. On the USD-denominated hashprice forward, the discount to spot hashprice averaged about 2.25% on contracts with 31-day durations or less and 5-6% on contracts between 57-91 days. Depending on the month, the average standardized monthly contract traded at a discount or premium in the 5% premium to 6% discount range.

Looking Ahead to Q2
In Q2 Luxor is looking forward to continued high growth in terms of the number of market participants and volume traded. Over the coming months, we are also excited to roll out a number of highly demanded market and contract upgrades, including:
Longer durations - by expanding to 6 month contracts to offer long term hedging opportunities.
Daily settlement - to increase payout frequency, increase capital efficiency, and more easily offset existing positions.
Updated margin capabilities - to protect against counterparty risk and reduce capital requirements.
New Position Manager views - to improve hashprice portfolio visibility and management decision making.
If you'd like to learn more about Luxor's Bitcoin mining derivatives, please reach out to derivatives@luxor.tech or visit https://www.luxor.tech/derivatives.
Disclaimer
This content is for informational purposes only, you should not construe any such information or other material as legal, investment, financial, or other advice. Nothing contained in our content constitutes a solicitation, recommendation, endorsement, or offer by Luxor or any of Luxor's employees to buy or sell any derivatives or other financial instruments in this or in any other jurisdiction in which such solicitation or offer would be unlawful under the derivatives laws of such jurisdiction.
There are risks associated with trading derivatives. Trading in derivatives involves risk of loss, loss of principal is possible.