Manage Your Hashrate Derivatives Positions with Luxor's Position Manager
By Matt Williams
Following the launch of Luxor's Hashprice NDFs, we are pleased to announce the launch of a new platform to manage your trading positions, the Luxor Position Manager. Our new application is loaded with risk management functionality, designed for customers to manage existing positions, see daily mark-to-market, monitor P&L, and view the overall performance of their Hashprice NDF positions. The Luxor Position Manager is accessed via sign up or login on our landing page, at luxor.tech/derivatives.
Enough chatter, show me some screenshots  
Once you are onboarded with Luxor, we like to take care of you and that's why we designed this new platform. Customers with existing positions will get an overview of the live NDF contracts they have in their position. Customers that login but have not executed trades will be taken to the homepage but won't see a whole lot, because you can't see trade details if you don't trade. Just kidding, we are happy to load some test trades in there so you can take it for a test drive.
The top cards show an aggregate summary of existing contracts, showing the overall number of open contracts, realized and unrealized P&L (for both USD and BTC-denominated contracts), and the aggregate size of their live position. This is the "quick and dirty" view of your positions.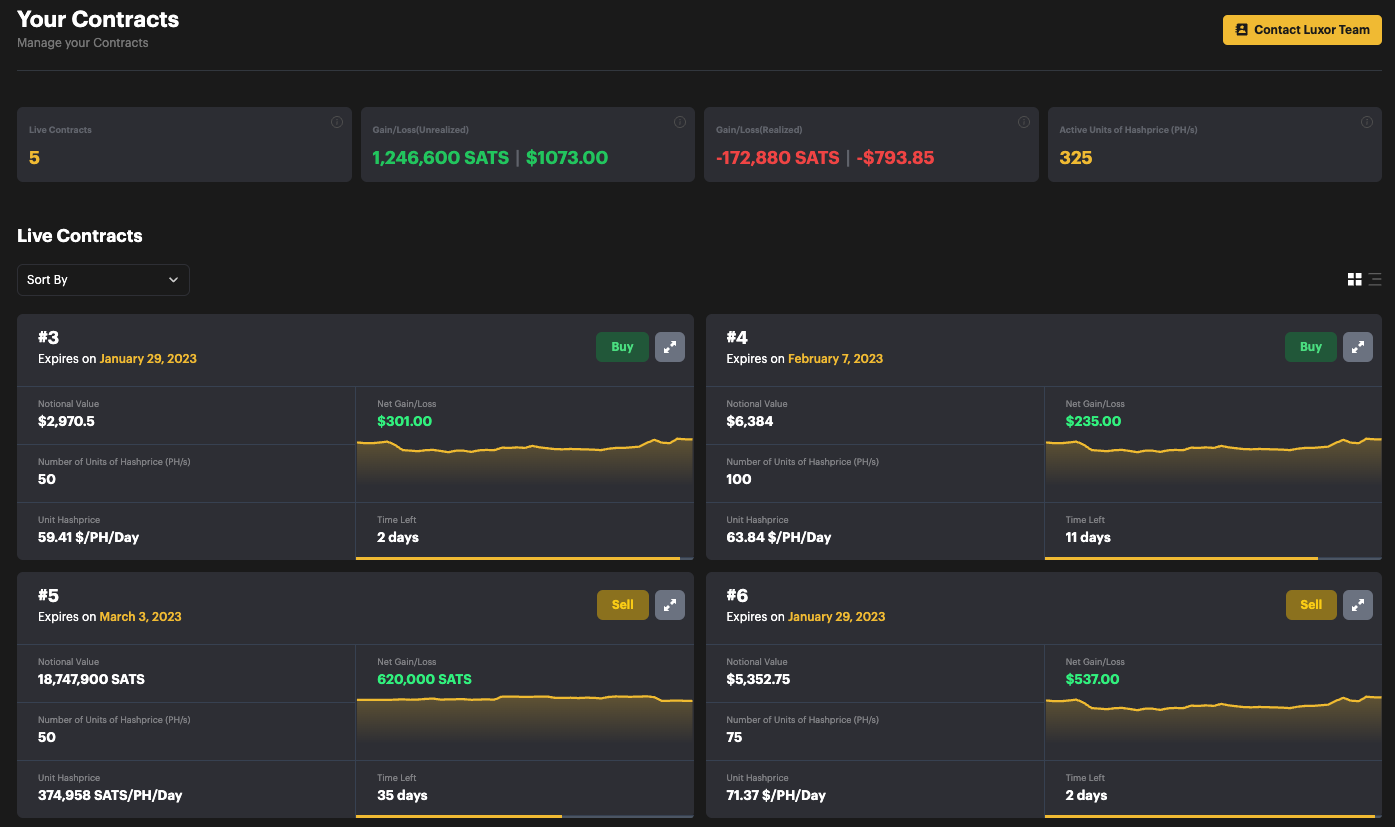 But I want more granularity
No problem, we got you. The cards in the Live Contract section allow users to get a more granular view of the individual trades they have on, showing the following trade details: Notional Value, Number of Units, Net Gain/Loss, Unit Hashprice, and Time Left (to expiration).

That's not enough, I need to see more
Sorry friend, that's all we got.
Just kidding. If you want to dive deeper into your contract, we offer a Contract Performance Chart that shows your Unit Hashprice versus spot Hashprice and the Reference Rate. The Contract Details are also included in this view, showing similar details to the card view, plus daily hashrate, execution date, and expiration date.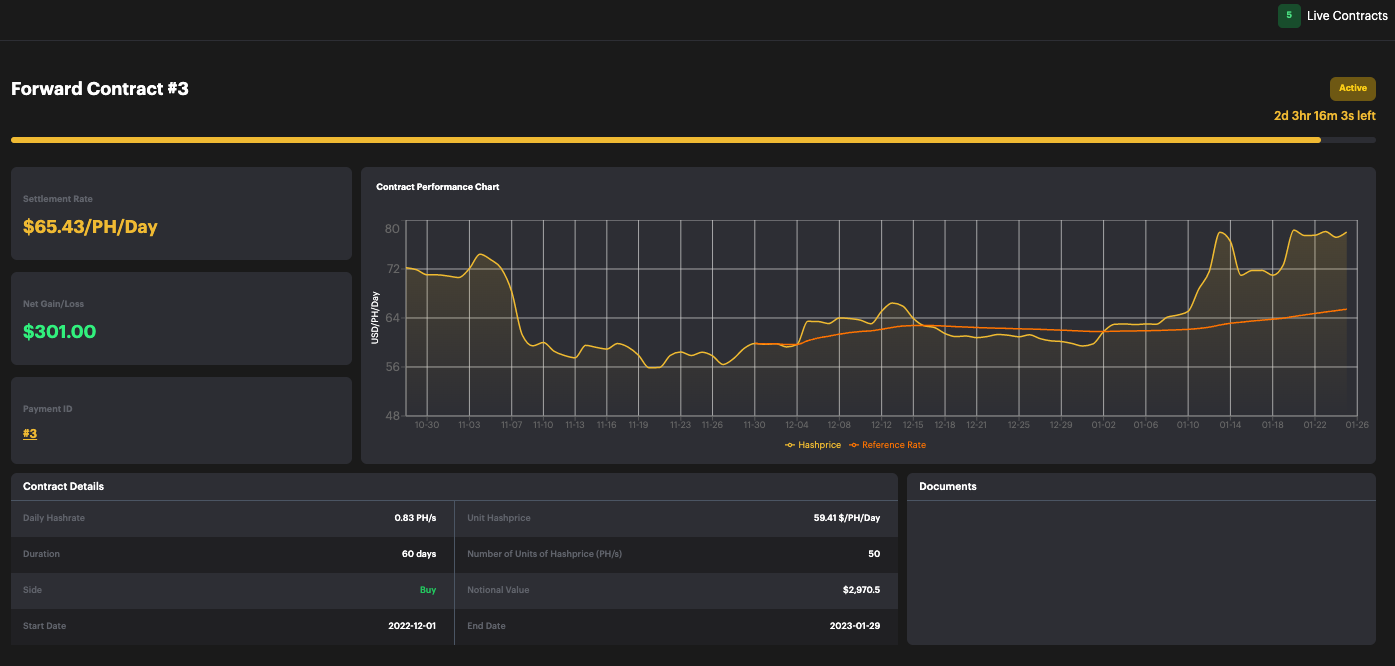 Lastly, trade confirmations and ISDA contracts will be included, for easy reference, in the Documents section.

Ok, that's cool, but what if I'm a nerd and I want to see daily performance?
We definitely thought of that. See the table below, nerd. The Contract Performance table shows your performance on a daily basis, based on the mark-to-market. Here you can see the following:
Reference Hashprice - this is the daily average hashprice, based on Luxor's Hashprice Index.
Settlement Rate - this is the average of the contract's daily Reference Hashprice.
Change in Value - this equates to Unit Hashprice +/- the Settlement Rate.
Gain/Loss - the USD (or BTC) denominated profit and loss for the day.
Net Gain/Loss - the net (i.e., cumulative) USD (or BTC) denominated profit and loss.
Balance - current Notional Value +/- Net Gain/Loss.

Can I see all my live trades in a table view?
We'll actually do you one better. As you can see here, we show all your live trades in a table view. I guess maybe that's not better, but you got what you wanted so don't complain. The table view of the Live Contracts shows all the good stuff in the other view plus a handy Completion bar that shows how far along the contract is in its maturity.
And before you ask "why does it say 'Final Settlement' instead of 'Net Gain/Loss'?" Well, that's because our developer has never traded before and I didn't catch it before the blog post. We promise to change it before you log in next.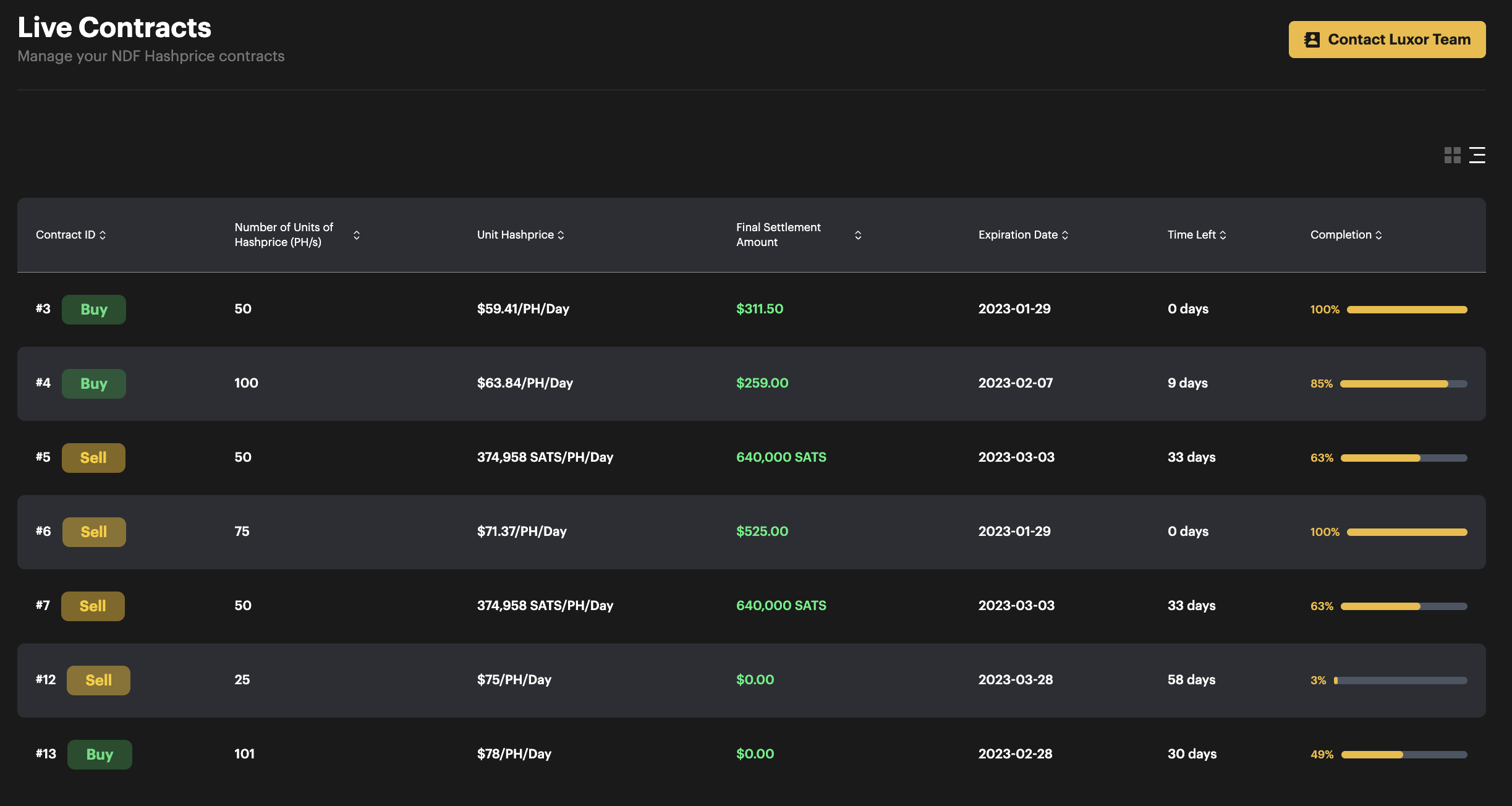 What about my trades that have expired?
We get it, you want to see how great you are at trading. We want to help build your ego (or appease your accounting department). So here you go, the Expired Contract tab will take you to all the goodness: details on each contract's Expiration Date, Duration, Size, Settlement Rate, and Final Settlement Amount.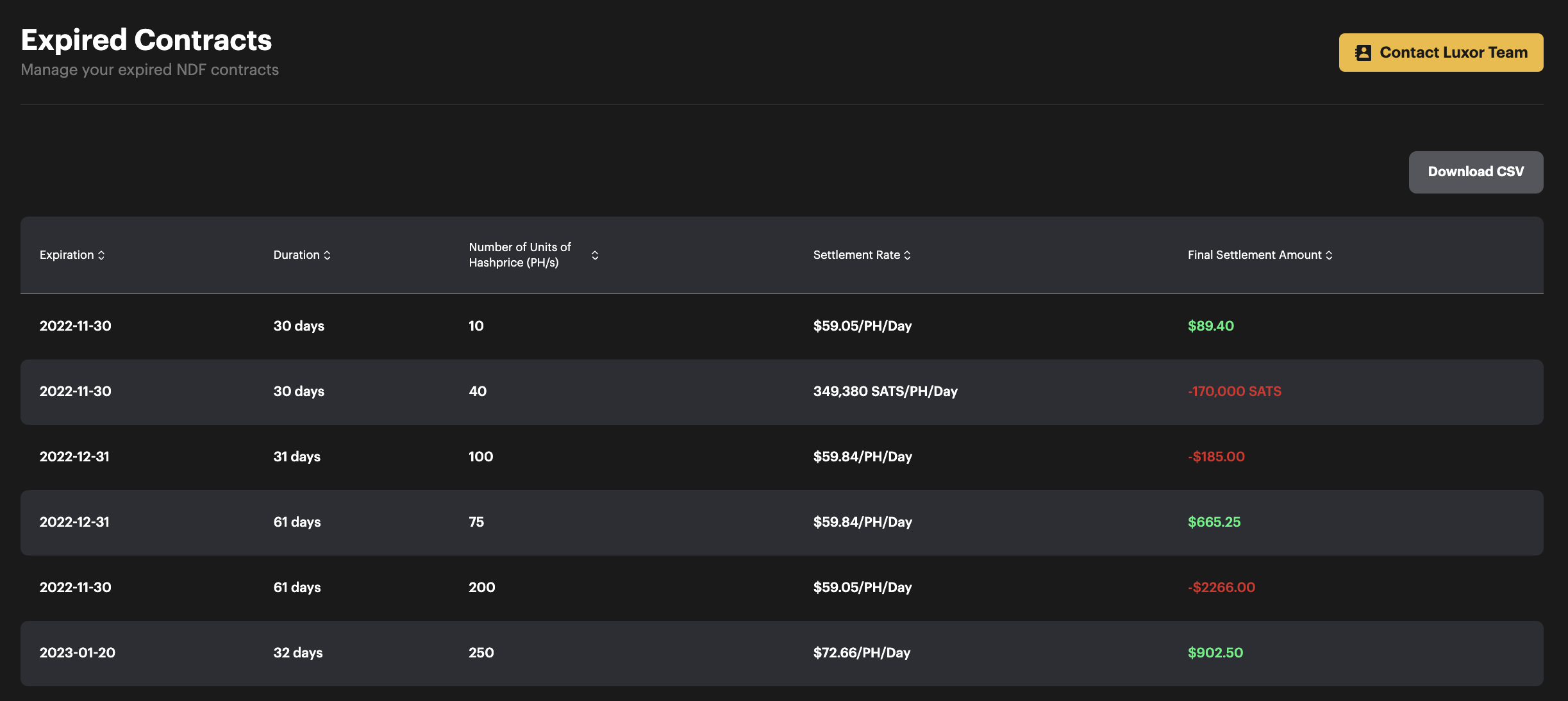 This is awesome, I want to put some trades on
We have options for you, friend.
Option #1 - give us a call or email, our deets are at the end of this blog
Option #2 - we probably chat with you on Telegram already, so hit us up there. And if we don't have a group chat set see up, go back to Option #1
Option #3 - click on the OTC Markets tab, which takes you to the form below. This message goes to Ricky, our intern and he's on call 24/7. Just kidding again, this goes to our derivatives team and we'll immediately get to work to source the liquidity for you.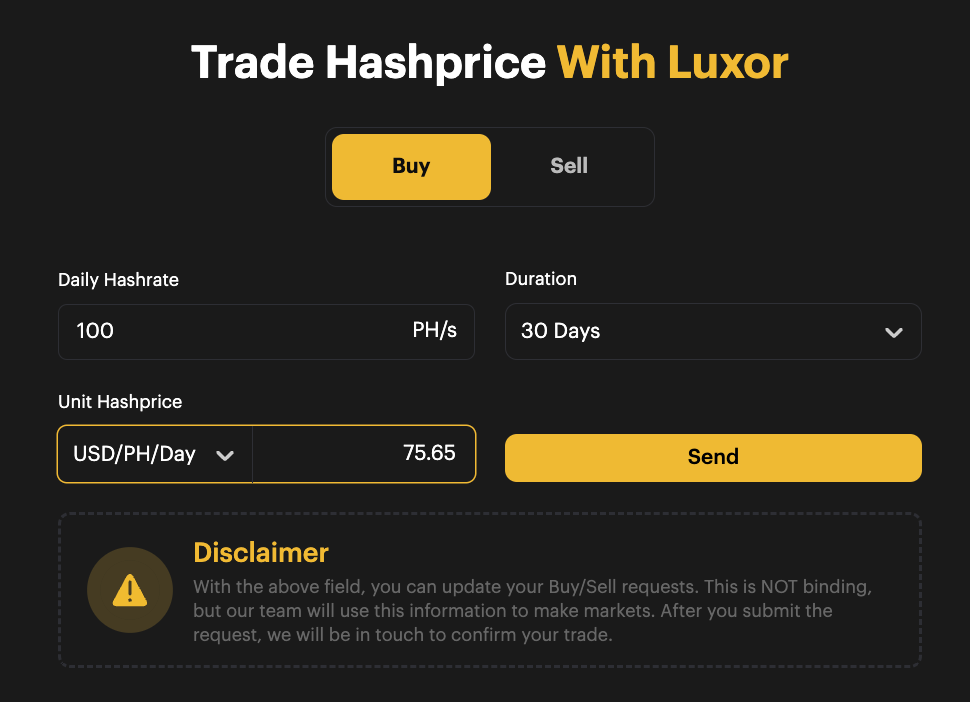 So that's the rundown of the Luxor Position Manager, we hope you like it. But say you don't, send us your feedback and we will (very) subjectively add it to our product roadmap. We are pretty nimble here at Luxor, so if your feedback is solid, there's a good chance it gets added quickly. And if you have any questions or general interest in our new hashrate derivatives line, give us a shout, we'd love to speak with you.
Love,
Matt
Contact Us
Email: derivatives@luxor.tech, matt.williams@luxor.tech, or ben.harper@luxor.tech
Telegram: @MattWilliams1 or @ben_s_harper
Disclaimer
This content is for informational purposes only, you should not construe any such information or other material as legal, investment, financial, or other advice. Nothing contained in our content constitutes a solicitation, recommendation, endorsement, or offer by Luxor or any of Luxor's employees to buy or sell any derivatives or other financial instruments in this or in any other jurisdiction in which such solicitation or offer would be unlawful under the derivatives laws of such jurisdiction.
There are risks associated with trading derivatives. Trading in derivatives involves risk of loss, loss of principal is possible.