Luxor Now Offers 6-Month Forward Contracts, Bullet Monthlies, Daily Settlement, and Dynamic Margin
Here on Luxor's Derivatives desk, we have some exciting upgrades to our Hashprice Non-Deliverable Forwards that we are excited to share with you.
In the 6 months since we moved out of the NDF beta phase, we have seen tremendous growth in volume, liquidity, and the number of market participants, and we would like to thank all of you who have been actively involved in our markets thus far.
We look forward to welcoming and onboarding many more participants to our markets in the coming weeks and months, and we strongly believe these product upgrades will be primary drivers for continued growth and demand for our Luxor's hashrate derivatives products.
Longer Contract Durations
To date, Luxor's Derivatives desk has offered durations in contracts out to 3 months. One of the most requested upgrades has been longer tenors, and we are excited to officially introduce tenors out to 6 months.
Longer tenors will allow miners to hedge and lock in revenue certainty for longer, without having to worry about rolling over trades every 3 months and the associated price risk with executing the new hedge. With the April 2024 Bitcoin halving becoming top of mind for miners, these contracts will allow participants to hedge through the halving and provide some interesting trading opportunities as well.
Bullet Monthly Forwards
Currently, our Non-Deliverable Forwards are structured by duration, meaning if you execute a 60-day duration trade today, the settlement period for that trade begins tomorrow and lasts for 60 days.
We are replacing our existing contract structure with new "Bullet Monthlies." These Bullet Monthlies allow participants to trade or hedge specific months without having to begin the trade or settlement period immediately.
Let's walk through a quick example using the new Bullet Monthlies. Today is July 10th, and you wish to execute a trade during the August Bullet Monthly, where the settlement period for the trade would begin on August 1st and last through August 31st. Under our old duration-based model, the trade would have to begin immediately (tomorrow), on July 11th. With the new Bullet Monthly model, you can execute the trade now to begin on a future date - in this example beginning on August 1st.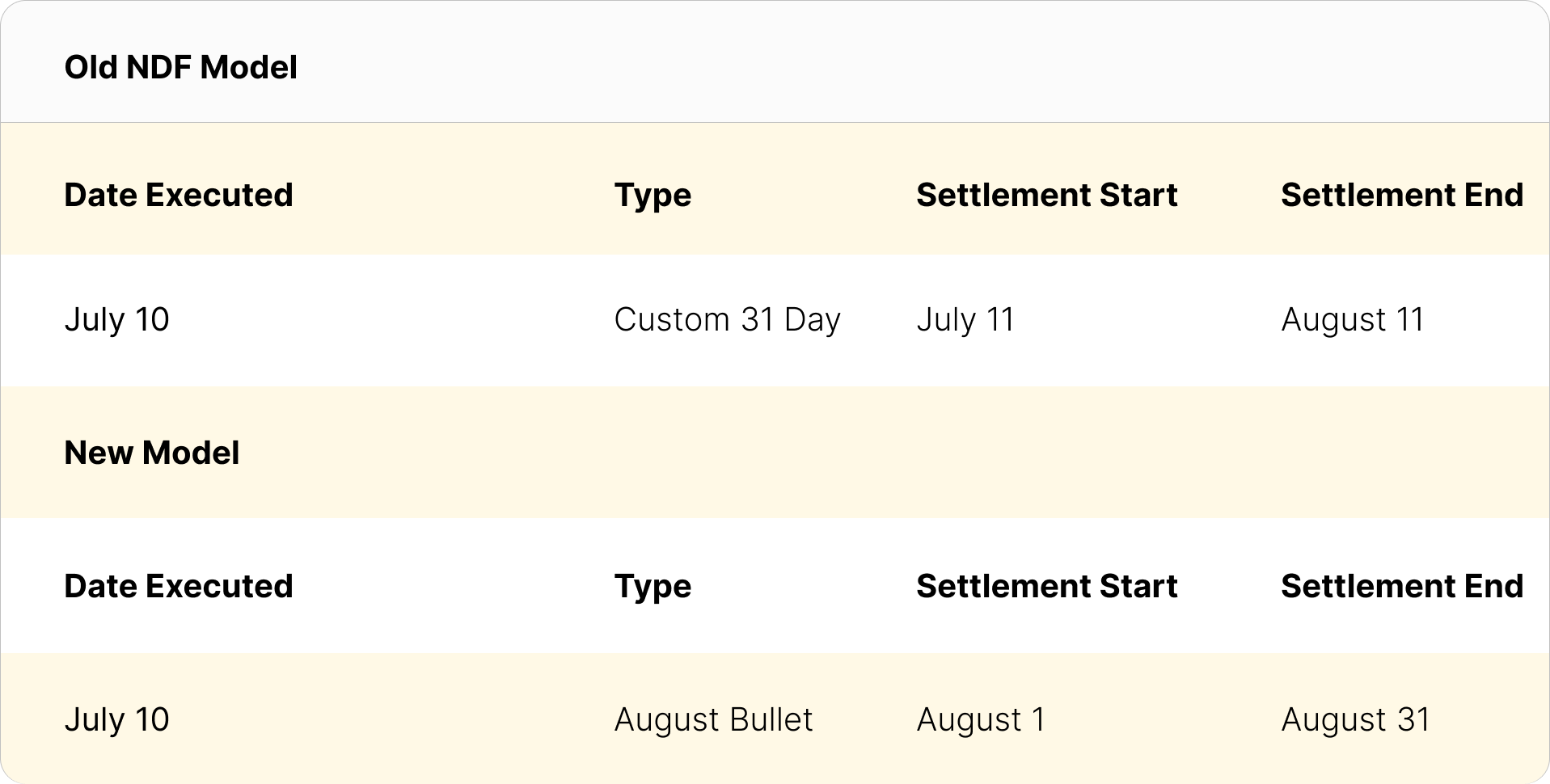 Similarly, you could sell the remainder of the days in July, or August, September, October, November and December all at the same time, and the settlement periods for each of those respective monthlies will begin on the 1st of that month and end on the last day of that month.
As always, there is still the ability to create bespoke contracts starting on any day and lasting for a custom length of time out to 6 months.
This upgrade gives participants flexibility when closing out and extending trades, and it also provides participants the ability to trade specific situations like seasonality and the halving well in advance.
Daily Settlement & Dynamic Margin
As our contracts currently exist, the trade is executed, Initial Margin is collected, and (at the expiration of the trade) positive or negative P&L is cash-settled, and the remaining Initial Margin is returned.
We are proud to announce that we are moving to a Daily Settlement model. In this model, the average of 15-second prints over the course of a day determine that day's settlement. The trade is marked to market using this Daily Settlement, and P&L for that day is determined.
At the same time, we are introducing a new and improved Dynamic Margin for our Forwards. Dynamic Margin will allow margin to be returned to you daily as settlement days of the trade roll off the board, assuming the P&L on the trade doesn't fall below margin requirements for the remaining days.
This shift to a Dynamic Margin model provides for much-improved capital efficiency without having to wait until the trade's expiration to have Initial Margin returned.
These Upgrades are Just The Beginning
While these exciting new upgrades move our marketplace forward, this is just the tip of the iceberg. We will continue to iterate on the product and incorporate your feedback into future updates as we build out premier products for the hashrate market.
Stay tuned for future developments!
-Luxor Derivatives Team
Disclaimer
This content is for informational purposes only, you should not construe any such information or other material as legal, investment, financial, or other advice. Nothing contained in our content constitutes a solicitation, recommendation, endorsement, or offer by Luxor or any of Luxor's employees to buy or sell any derivatives or other financial instruments in this or in any other jurisdiction in which such solicitation or offer would be unlawful under the derivatives laws of such jurisdiction.